No Risk Guarantee
Our no risk guarantee provides you with a full 60 days to test drive your new ecard application. If at any time for any reason you are not 100% satisfied with your purchase, simply let us know and we'll immediately refund your money.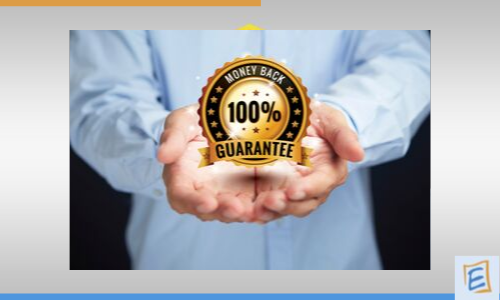 We have adopted a simple policy for how we do business. We understand that if you truly seek to improve the overall quality of your website, it's our job to provide an ecard application that allows you to add value to your visitors.
We run our site no different than you run yours. The more value you give your readers, the more you will receive from your readers, right? 
Bottom line... we are here to help you make your site a successful experience for your visitors.
Allow me to share what I've learned with you. I'm confident that in a fairly short period of time, you'll wonder why we don't charge more for our Ecard service. We've priced our service at a modest quarterly rate so that you are encouraged to maintain your membership for the long-term and enjoy seeing how adding ecards to your site can increase visitor traffic over time.  
If you are not sure if membership is right for you, just try it out for 60 days - risk free. If you don't like the service during that time, just click to cancel and you will receive a fast and friendly refund.
"I am so pleased with the look and presentation of my ecard system - I really love this product. My visitors are living proof that is makes people smile. Adding a customized EcardSystem to my website was much easier than I expected it would be. The tutorial and the step-by-step explanations are terrific! 
I love the fact that when my visitors are making use of my ecards, they are also 'spreading the word' about the existence of my website. This is a great viral marketing tool for increased website traffic. Most importantly, the price is surprisingly inexpensive and I enjoyed the process of creating my ecard system. It feels very rewarding when people tell me how much they appreciate the free ecard service available on my website. Thank you!"
- Cinthia Beam
ClickBank No Risk Guarantee
Regarding the specifics of our no risk guarantee, we adhere to and fully support the guarantee of our payment provider - Clickbank.

ClickBank's return policy is as follows: ClickBank will refund 100% of the purchase price upon request anytime within 60 days from the date of purchase. After 60 days all sales are final. So, if you do decide to cancel, all you have to do is notify Clickbank via a contact link that is included in your purchase receipt. They handle your request with no questions asked. We don't get involved at all unless you have questions or ask for assistance in completing the refund request. 
In addition, Members of EcardSystem.com may cancel their subscription at any time - no questions asked.
So, take 60 days to try it out feeling 100% comfortable that we stand by our no-risk guarantee. And if that's not enough, let me just say that "I personally guarantee you will love this service." :)
So take action now and begin building your customized ecard system for an improved visitor experience, and increased traffic to your website. 
To your success,

Richard Gorham
Owner, EcardSystem.com
No Risk Guarantee