Image Gallery | Free Photo Ecards
Free photo ecard images are available to all subscribers in our Ecard Image and Stamp Gallery.  
You can choose from a variety of existing ecard images and learn how to create and customize images for your own website.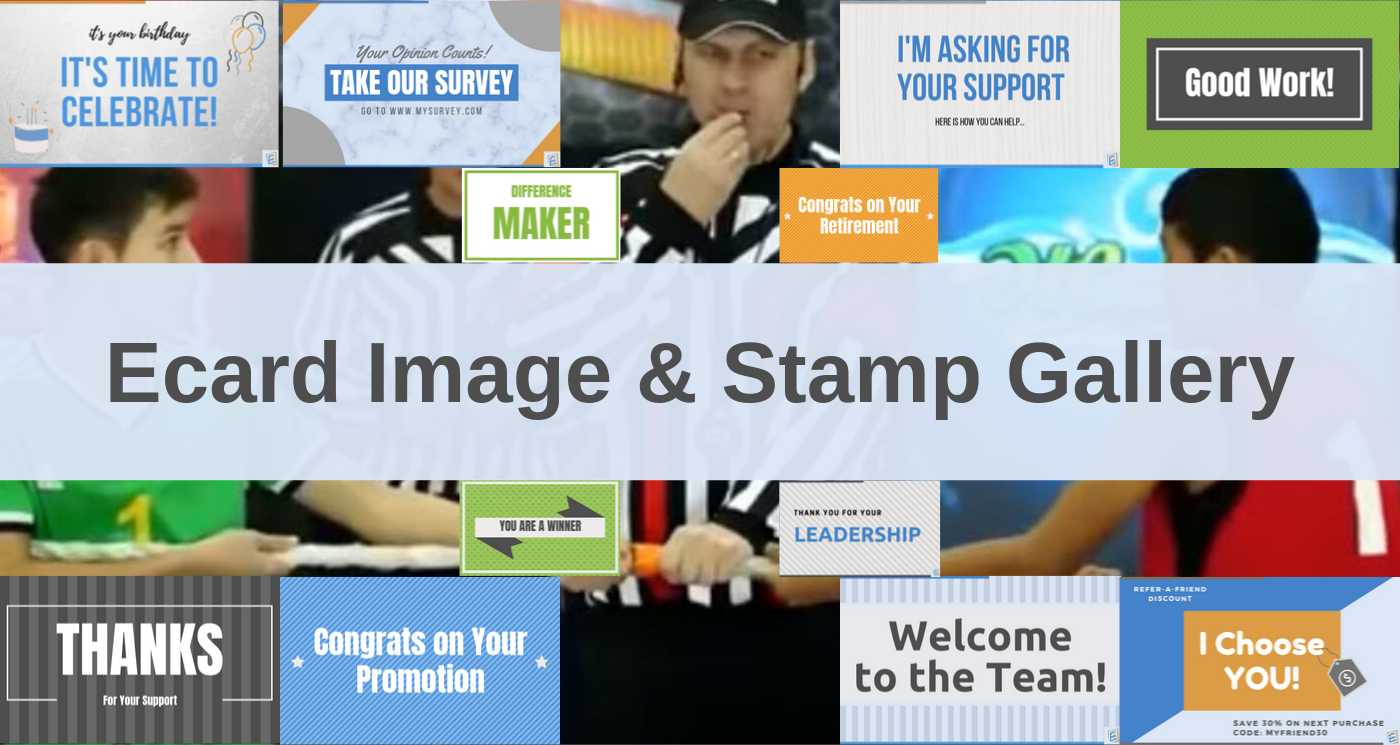 Go to Free Photo Ecard Examples
While every webmaster is encouraged to use their own unique images when building their ecard application, you can get your ecard system up and running quickly by initially choosing images available in our ecard gallery.
Once your visitors are using your new ecard system, we invite your to share your success with our EcardSystem audience by providing a customer review. By seeing how existing subscribers are using ecards to improve visitor engagement, new subscribers can quickly determine what will work best for their website.
For example, if your website attracts business owners, leaders and managers, you might consider offering a variety of ecards that enables your visitors to reward and recognize their employees. Ecards with a message of Thank You, Great Job, Way to Go, Nice Work, Congrats, etc.  

Members can also offer a variety of music or audio clips to their ecard application, which allows users to enhance and strengthen the impact of their ecards.  See examples of music clips available in our Music/Audio Gallery. 

In addition, that same audience might want to inspire and motivate their team by sharing powerful video clips that demonstrate the importance of Persistence, Commitment, Never Giving Up, Teamwork and more. See examples of videos you can offer in our Ecard Video Gallery. 
Examples of Free Photo Ecard Gallary
Ecards can positively impact your monthly traffic stats if you use them in strategic ways to build your business.
For instance, if you provide the proper incentive your visitors can help spread your message by referring their friends and family to your site to receive a special offer or discount. 
If you offer a free gift to visitors of your site, then create an ecard that visitors can forward to allow their friends and family to take advantage of your generosity. Using this approach can help increase your email list for future marketing efforts. 
Ecards can play a powerful role in spreading the word about a special cause or charity that you support. Using a strategy of "Match My Gift" or "Support Our Mission" allows your visitors to quickly encourage others in their network to join your cause. 
These are just a small sample of the free ecard images that are available to our subscribers:

(Click on any image below to enlarge the image.)
Examples of Free Stamp Images
In addition, the Ecard Image Gallery includes an assortment of free photo ecard Stamp images for your use.
Stamp images can also be customized as you see fit.  For example...

(Click on any image below to enlarge the image.)
All images provided in our free photo ecard gallery are complimentary and completely optional. Members are encouraged to use their own unique ecard images for their ecard system. However, for a webmaster who is new to the process, or just needs one or two "filler" ecard images to get them through the initial process, our Ecard Image Gallery provides assistance. 
For new members who are not entirely sure of how to create your own unique images, we also provide advice and resource recommendations to quickly get you on the right path for success. For example, Canva.com is a terrific resource that is very easy to use for creating unique and branded ecard images.

Webmasters that Join Today receive immediate access to all our various resource galleries.
To your success, 
Richard Gorham
Owner, EcardSystem.com 

Free Photo Ecard Gallery